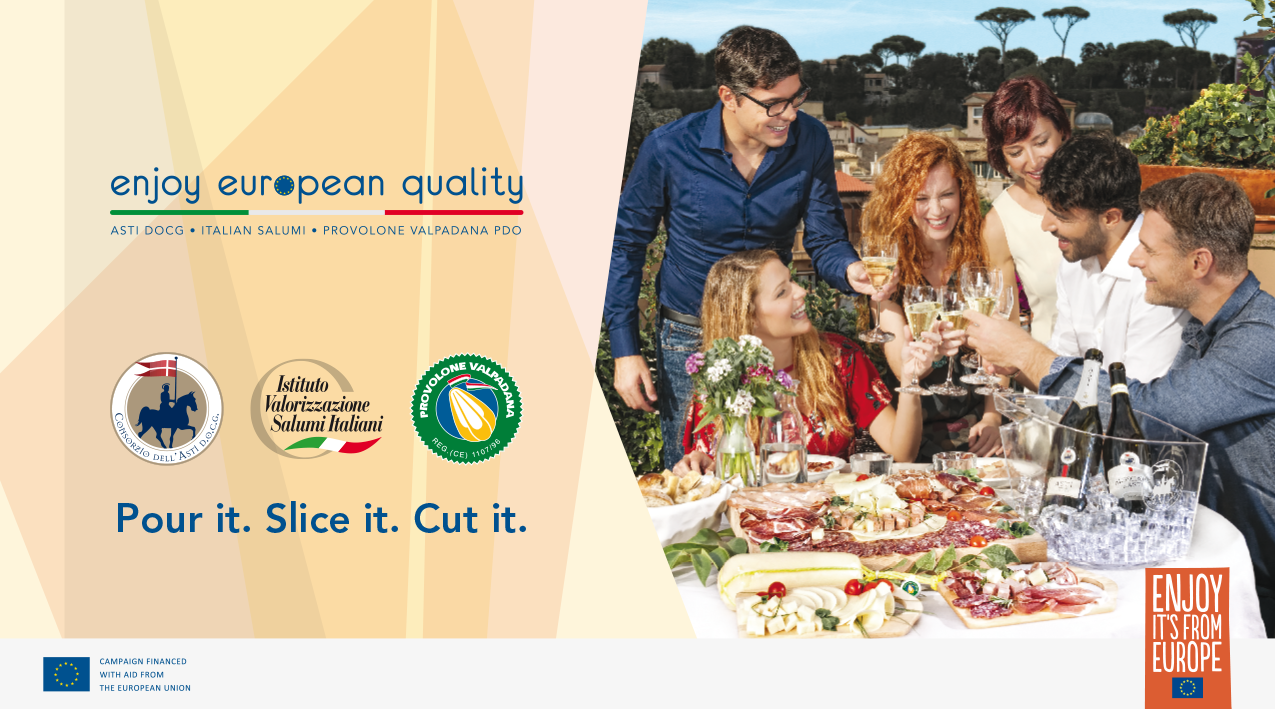 Pour it. Slice it. Cut it.
THREE LEADING ITALIAN
FOOD & WINE CONSORTIUMS LAUNCH A 3-YEAR LONG NATIONWIDE CAMPAIGN: ENJOY EUROPEAN QUALITY
Enjoy European Quality (E.E.Q.), is a 3-year project cofounded by the European Community designed to increase the awareness and recognition of European quality products within the food and wine sector with sparkling wines promoted by the Consorzio di Tutela dell'Asti D.O.C.G., cured deli meat from the Istituto Valorizzazione Salumi Italiani and cheese from Consorzio Tutela Provolone Valpadana within various cities in the United States. A presentation/press conference will be held at the legendary Gattopardo Restaurant in New York City, January 18 to launch the promotions.
The campaign will consist of workshops, business-to-business meetings, restaurant-week promotions, lifestyle events, point-of-sale promotions, social media activities in all major US markets: Miami, New York, Chicago, Los Angeles, San Francisco and select cities in Ohio and Michigan geared towards end consumers, buyers, distributors, large-scale retail trade, chefs, sommeliers, food experts, media and opinion leaders.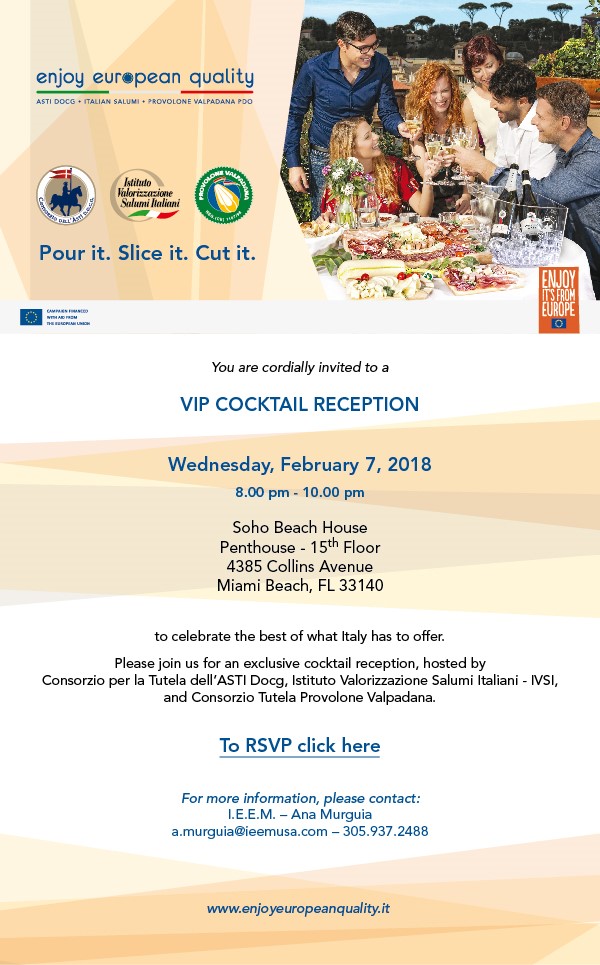 The three Consortium committed in providing the outmost quality products following the strict European P.D.O. & P.G.I. regulations within the project are:
CONSORZIO PER LA TUTELA DELL'ASTI D.O.C.G.
Founded in 1932, the Consorzio per la Tutela dell'ASTI D.O.C.G. works to protect, develop and promote ASTI and MOSCATO d'ASTI all over the world. These premium products are leaders in the segment of quality "sweet" wines and sparkling wines and they represent a vast background of culture, memories, traditions, knowledge and stories of entire family lineages that have dedicated their entire lives to their vineyards. ASTI Dolce D.O.C.G. is made entirely from Moscato Bianco grapes. It has a characteristic musky flavor, well-balanced sweetness and acidity, along with a moderate alcohol content. ASTI Secco (Dry) D.O.C.G., officially granted D.O.C.G. status in 2017, is also made from Moscato Bianco grapes. Developed with the assistance of the Consorzio's research lab and characterized by particularly fine and persistent beading, dry ASTI offers a fresh mouthfeel which makes it suitable as a full-meal wine. Following the recognition of ASTI Spumante's D.O.C.G. status in 1993, a distinction was established between ASTI and MOSCATO d'ASTI, both made from the same varietal. MOSCATO d'ASTI D.O.C.G. is one of the most recognizable products of Piedmontese wine-making with its intense musky aroma and delicate flavor reminiscent of wisteria and linden, peach and apricot with hints of sage, lemon, and orange blossom.
ISTITUTO VALORIZZAZIONE SALUMI ITALIANI
The "Institute for the valorization of Italian deli meat" is a non-profit organization formed in 1985 in response to the growing need for information from consumers with the aim of improving the image of Italian deli meats. I.V.S.I. has become a reference point for education and training programs on the production process and the economic, nutritional, and cultural aspects of the various facets of Italian Salumi both in Italy and abroad, promoting a unique culinary heritage of Made in Italy food products.
Cold cuts belong to the oldest Italian food heritage and are the expression of the culture of the territory where natural foods are produced. Over the centuries, the production and consumption of cold cuts have become increasingly relevant: from the Italian Renaissance triumphs where gastronomic art was developing, up to the XIX century, when the first food labs and deli meat spread to Italy. The commitment of the entire production has been able to combine tradition with modern nutritional needs. Nowadays, in a balanced diet, cold cuts are a valuable source of protein, minerals, and group B vitamins.
The sector of cold cuts production in Italy has about 30,000 workers who operate in 2,000 companies; it develops a business of over 8 billion euros in turnover (2016), of which approximately 1.5 derive from exports. Outside the European Union, the United States is the primary market for Italian salumi, with 8,307 tons of exported ones, which correspond to € 100.638 million (ASSICA 2016 data). The most exported Italian salumi are traditionally the seasoned raw hams followed, in the order, from cooked hams, mortadella, and salami.
Protected Designation of Origin (P.D.O.) SALUMI
EXPORTED ON USA MARKET
Coppa Piacentina • Culatello di Zibello • Pancetta Piacentina • Prosciutto di Carpegna • Prosciutto di Modena • Prosciutto di Parma • Prosciutto di San Daniele • Prosciutto Toscano • Salame Brianza • Salame Piacentino • Salamini Italiani alla Cacciatora (or Salame Cacciatore).
CURRENTLY NOT PRESENT ON USA MARKET
Capocollo di Calabria • Crudo di Cuneo • Lard d'Arnad (Val d'Aosta) • Pancetta di Calabria • Prosciutto Veneto Berico-Euganeo • Salame di Varzi • Soppressata di Calabria • Sopressa Vicentina • Salsiccia di Calabria • Jambon de Bosses (Val d'Aosta).
Protected Geographic Indication (P.G.I.) SALUMI
EXPORTED ON USA MARKET
Coppa di Parma • Cotechino Modena • Mortadella Bologna • Salame Felino • Salame Piemonte • Speck Alto Adige • Zampone Modena.
CURRENTLY NOT PRESENT ON USA MARKET
Bresaola della Valtellina • Ciauscolo • Finocchiona • Lardo di Colonnata • Mortadella di Prato • Porchetta di Ariccia • Prosciutto Amatriciano • Prosciutto di Norcia • Prosciutto di Sauris • Salama da Sugo • Salame Cremona • Salame d'Oca di Mortara • Salame Sant'Angelo.
CONSORZIO TUTELA PROVOLONE VALPADANA
Provolone Valpadana P.D.O. is a part of the "pasta filata" (spun paste) cheese family, characterized by the technique of "spinning" the curd. It is the cheese with the greatest variety of shapes and weights over any other dairy product, thanks to the plasticity of the paste, which – during processing – allows cheese makers to dabble in different ways.
The Production Regulation for Provolone Valpadana P.D.O. has safeguarded this cheese culture through the identification of a geometric type, replicated in the different weights. There are five typical forms: spherical, pear, cylindrical, salami, and mandarin. They can be produced in weights ranging from 500g to over 100kg.
The two types of Provolone Valpadana P.D.O. are:
• "Dolce", which is distinguished by the use of calf rennet and is aged for no more than 2-3 months.
• "Piccante", which is distinguished by the use of kid and/or lamb rennet paste and is aged for a minimum of 3 months to over a year.
Press Conference/Presentations:
New York – Thursday, January 18, 2018 at Il Gattopardo
San Francisco – Monday, January 22, 2018 at The Westin St. Francis San Francisco on Union Square
For more information on the Enjoy European Quality events, promotions, and products,
please visit www.enjoyeuropeanquality.it
For Immediate Release: I.E.E.M. – International Event & Exhibition Management
Mariana Nedic – Ph. (305) 937-2488 – mariana@ieemusa.com