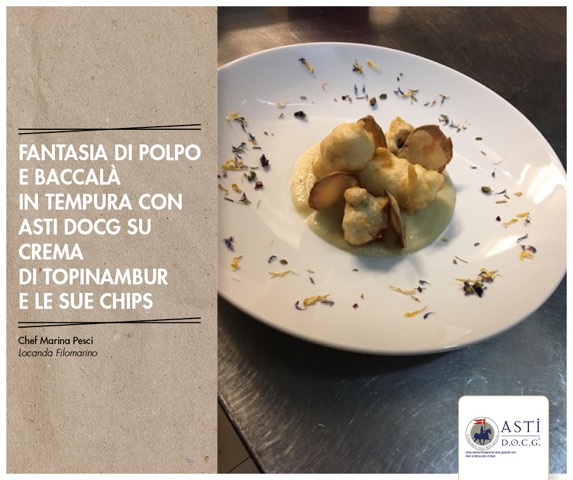 Chef: Marina Pesci – Octopus and salt cod tempura surprise with astidocg on sunroot cream and chips.
RESTAURANT LOCANDA FILOMARINO
---
500 gr flour
1/2 l Spumante Asti docg
4 egg whites
500 g sunroot (Jerusalem artichokes)
1 leek
150 ml light cream
salt to taste
70 g octopus
70 g salt cod
Beat the egg whites until they are stiff and put them aside. In a cold bowl, blend the sifted flour and the Asti Docg, well chilled, and whip until firm, then add the egg whites, using a spatula from the bottom of the bowl up until thoroughly mixed.
Peel 400 g of sunroots, place them in a tall pot with the leek and add water to cover. Boil until quite tender and blend the leek and sunroot, adding 150 ml of light cream.
Dip the pieces of octopus and salt cod in the batter and fry them in oil until crisp. Slice the remaining sunroots thinly, pass the slices in some flour and fry them. Place the sunroot cream on the bottom of a soup dish and the octopus and salt cod on top. Garnish with the sunroot chips.
---
LOCANDA FILOMARINO
Via Filomarino, 7
00199 – Roma
Tel: (+39) 06 86211815
Cell: (+39) 3475020595
www.locandafilomarino.it