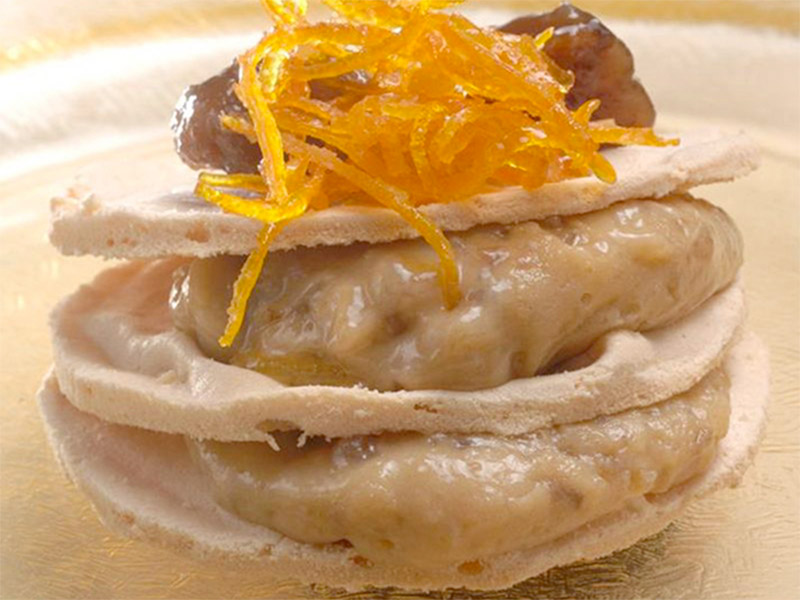 Chef: Walter e Roberto Ferretto – Meringue cake with Asti Spumante marrons glacé cream and candied orange peel
RESTAURANT IL CASCINALENUOVO
---
100 g egg white
100 g caster sugar
80 g icing sugar
salt
100 g custard
50 g marrons glacé
100 g Asti Spumante
2 g gelatin
50 g whipped cream
orange peel from 2 oranges
100 cl water
Whisk the egg whites with a pinch of salt, gradually adding the caster sugar. When the mixture is firm, add the sifted icing sugar with a rubber palette knife. On baking paper, spread meringue disks with an 8 cm diameter and ½ cm thick. Bake for 45 min at 100°C.
Warm up the Asti Spumante to 60°C, melt the softened gelatin, add and blend in the mixer until dense and creamy.
Lighten the cream with whipped cream.
Cut the orange peel into thin julienne strips and boil in water and sugar for 15 minutes. Compose by alternating 3 disks of meringue with layers of marrons glacé cream and top with candied orange peel and chocolate sauce.
---
IL CASCINALENUOVO
Strada Statale 231, n° 15
14057, Isola d'Asti (Asti) Italy
Tel: +39  0141 958166
Fax: +39 0141 958828
www.walterferretto.com