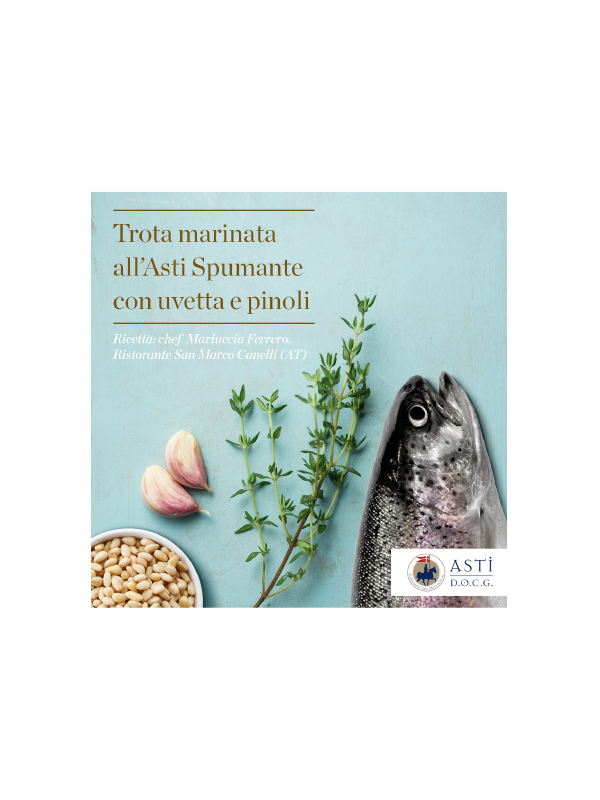 Chef: Mariuccia Ferrero – Trout all'Asti Spumante with raisins and pine nuts
RESTAURANT SAN MARCO

---
Recipe for 6-8:
1.2 kg fresh trout already cleaned,
120 g olive oil
salt and pepper
fresh thyme leaves or chopped herbs
2 carrots
4 shallots
1 medium onion
8 garlic cloves
2 sage sprigs
3 bay leaves
150 g wine vinegar
350 g Asti docg,
70 g raisins,
100 g roasted pine nuts.
Remove the skin and fillet the trout, flavour with salt, pepper and fresh thyme or chopped herbs, roll them up in coils, keeping the darker side inwards, tightly wrap in baking paper, vacuum pack and steam for 20 minutes and then let cool down for a few hours in the fridge. Meanwhile, prepare the marinade: lightly sauté the sliced shallots, onions and carrots in oil with garlic, sage and bay leaf; sprinkle with vinegar, reduce, add the Asti spumante, reduce further, add the softened raisins and roasted pine nuts. Let cool down. Unwrap the trout fillets, slice them on a slant, display in a terrine or glass bowl, cover with the marinade and store in a cool place for at least 24 hours before serving, then serve at room temperature.
---
RISTORANTE SAN MARCO
Via Alba, 136 – Canelli (Asti) – Italy
Tel: +39 0141823544
www.sanmarcoristorante.net