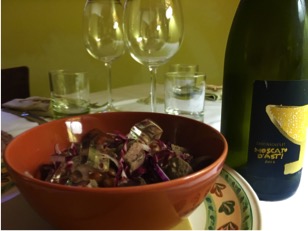 Beef flank, tropea onions and borlotti beans salad with Moscato d'Asti Cascina Castle't jelly
ANTICA TRATTORIA CON CALMA
---
Recipe for 4:
Borlotti beans 250 g
Fassone beef flank 500 g
One medium Tropea onion
Red chicory 70 g
Moscato d'Asti Cascina Castle't, one glass
Gelatin, 2 sheets
Salt, pepper and extra-virgin olive oil to taste
Simmer the beans for about 30 minutes.
Plunge the beef flank  in boiling water with carrots, onion, celery and bouquet garni and cook for about 40 minutes.
Soften the gelatin in water then dissolve it using a tablespoon of Moscato, then add the rest of the wine and put it  in the fridge for a few hours until it sets.
Add the meat to the beans and the chicory to the onion cut in fine rings, season with salt, pepper and a drop of extra-virgin olive oil. Garnish with diced Moscato d'Asti jelly.
---
ANTICA TRATTORIA CON CALMA
Strada del Cartman, 59 – 10132 Turin – Italy
Tel: 011 8980229
Fax: 011 8987198
concalma@concalma.it
www.concalma.it